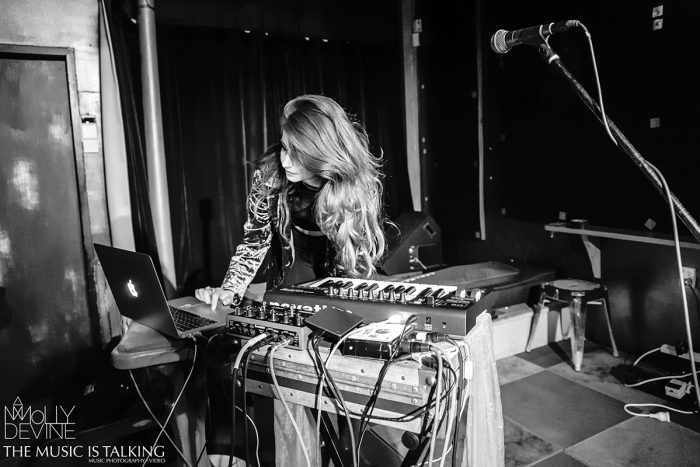 Dunedin
Singing Lessons | Choirs, Electronic Dance Music Production Lessons | Artist development, Song Writing Workshops, Composition Lessons, Mixing and Mastering Lessons, Online Lessons
---
Qualifications:

MMus Contemporary Vocal Performance, Bachelor of Music Honours in Contemporary Composition and Studio Production

Styles:

Contemporary

Suitability:

All
---
Bio
Molly is a strong believer that everyone can sing. She also strongly believes that everyone should sing, and it's quietly her life mission that everyone does….
She completed her Masters of Music in Contemporary Vocal Performance and has a Bachelor of Music with First Class Honours in Contemporary Composition and Studio Production from Otago University. Since completing her Masters she has been working as a musician, running a music teaching business, and more recently working full time as an artist (indie pop artist at www.mollydevine.com).
Molly has been teaching singing for nearly 10 years and in the past few years has begun sharing knowledge she has gained working within the New Zealand music industry in programs such as Amped Music Project, at Central Soundwave in Queenstown, and on an individual level. This inspired her to start Molly Devine's School of Music for Summer 2020.  
Her expertise lies in Singing, Songwriting, Performance, Music Production, and Music Industry. In her Honours Year at Otago University she studied Contemporary Composition under Dr. Graeme Downes, gaining an excellent foundation which she has developed since graduating, writing collaboratively with excellent New Zealand Artists and Producers such as Nik Brinkman, Will Henderson, Maddy Parkins-Craig, Rory Noble, and Nigel Stanford.
In her Honours Year she also majored in Studio Production which gave her tools which she uses daily arranging and producing music for herself or podcasts such as The Wild Dunedin Podcast.
She has been on two National Tours and has performed in all 3 Tally Ho! Concerts at the Dunedin Town Hall with the Dunedin Symphony Orchestra  alongside NZ Music heroes Martin Phillips (The Chills), Shayne Carter (StraitJacket Fits), Graeme Downes (The Verlaines), Nadia Reid, Anthonie Tonnon, and more. Her old band The Station Agents supported Dr. Hook, Creedence Clearwater Revival, The Little River band at The Gibbston Valley Summer Concert in 2011 and 2012.
She is a self managed artist and has gained a deep and practical understanding of the NZ Music Industry from first hand experience as well as attending numerous conferences such as Going Global (2017, 2018, and 2019) and receiving one to one mentoring from MMF, Nic Nak Media, and Establish Music.
She offers lessons in singing, songwriting, music production, performance, music industry, as well as artist development/mentoring programmes.
She has a kind encouraging teaching style and welcomes all ages and stages.
Molly's lessons are a delight. She is so encouraging to anyone who is slightly nervous or plain petrified or might dread cake if it involves singing Happy Birthday. You do lots of weird and funny voice exercises and laugh a lot. She lets you choose any type of song - whatever you dream of being able to sing. Her lessons are a tonic, a highlight, a hoot - and even if you feel pooped before the lesson, you feel invigorated afterwards. Thoroughly recommended.
Jane, Louise, and Madeline
Molly is a great listener who helped me weed out habitual mistakes in my technique, without discouraging my own style of singing.
Max Jardine
Molly is an amazing, motivated, energetic, talented little bundle of fabulousness. Molly's Summer School of Music is the ultimate holiday programme for budding musicians. Molly's mentoring skills are second to none & she takes Dunedin's young talent & shows them how they can reach for the stars (& even become one). Molly caters for many genres & mediums. Tips & tools on vocals, writing, performing, producing right through to releasing. Molly opens eyes & minds to opportunities & possibilities. How far you take it is up to you so why don't you try & see where it takes you? Molly you rock! Love Debbie & Keira xx
Keira Wallace
Molly is an outgoing, creative, kind and bubbly person! I have had the pleasure of working with her for the past couple of months and have discovered so much about myself and my musical abilities through her teaching. Her passion for music is contagious. When you're with her it is impossible not to love every single aspect of the musical world, she has so much to give and is so excited to share her musical knowledge with you. I highly recommend Molly for any budding musician looking for a bit of guidance in their musical journey.
Jess Pelvin-Phillips