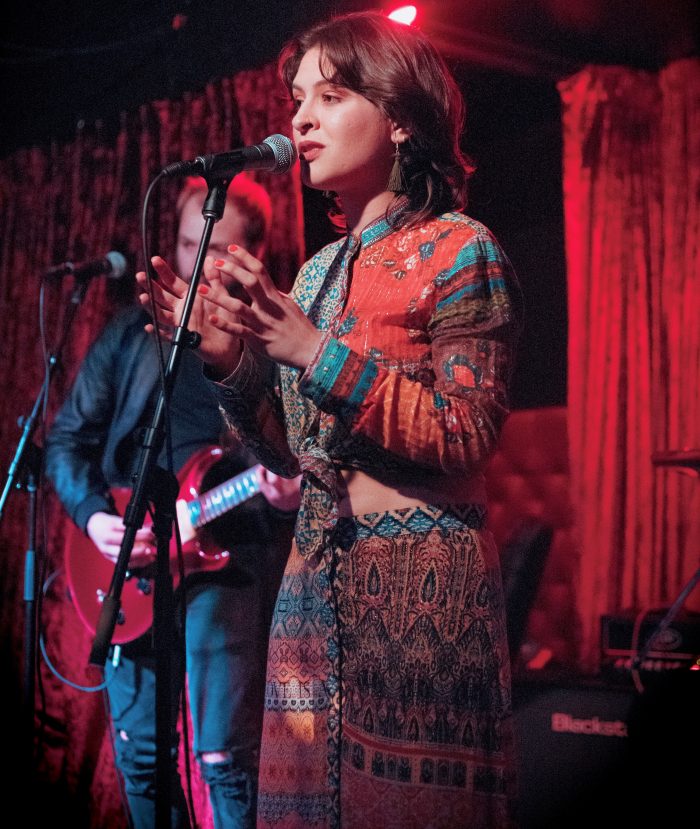 Christchurch
Singing Lessons | Artist development, Song Writing Workshops, Online Lessons, Posture for Singers and Instrumentalists
---
Qualifications:

Berklee College of Music Alum, Magna Cum Laude

Pricing:

$50-30 min/ $60-45 min / $70 -1 hour

Styles:

Pop, Rock, Musical Theatre, Jazz, Folk, Latin

Suitability:

12 of age to seniors
---
Bio
I'm a professional singer-songwriter and multiple award-winning entrepreneurial independent artist from Ecuador based in Christchurch. I love sharing with my students all the knowledge I acquired from Berklee College of Music and my career experience. I have taught for 10+ years and am now starting a career in social support parallel to my music.
If you're curious about your to-be music teacher, you can find me online on music stores and social media as @OrianaSetzMusic.
---
Teaching Info
(CURRICULUM BELOW)
▪︎Online lessons available.
▪︎Lessons both in Spanish & English.
▪︎I accept monthly and individual deposits via ANZ.
▪︎Get a friend to sign up and get a discounted lesson.
▪︎All LEVELS and music styles are welcome! Contact me for a trial lesson.
☆☆☆CURRICULUM:
*Note: Standard Singing Lessons focus on covering essential techniques for singing and developing the student's ear and it usually fits those with little to no musical background and/or with non-academic purposes. (let's say, music is your hobby or passion but not your long term career goal.)
On the other hand, Coaching is typically fit for students with experience and particular goals in mind, like preparation for entering music school/academy, enter a singing contest, or simply perform on a stage in front of an audience rather than karaoke nights only. MORE DETAILS BELOW.
☆Singing & Vocal Coaching:
☆BEGINNER TO INTERMEDIATE LEVELS
– Posture, breath & diaphragm support
– Expansion and strengthening of your vocal range (reaching lower and higher notes comfortably)
– Essentials on projection and natural resonance (without a mic)
– Developing registers: head voice, chest voice and mix
– Smoothening the transition between registers and vocal break
– Essential vocal technique and terminology
– Analysis and study of top singers and your favorite artists
– Expanding your vocal "color palette": master different textures and tones based on genre
– How to have an expressive singing voice
– Vocal warm ups for your type of voice
– Body and vocal chords relaxation exercises for unnecessary tension
– Vocal health for singers
– Sound placement and vibrato
– Ear training
– Memorizing and choosing repertoire right for your level and skill
☆INTERMEDIATE TO ADVANCED
– "Anchoring", advanced breath, diaphragm and full body support
– Vocal technique and advanced terminology: anatomy of the voice box
– Belting and advanced vocal protection
– Personalized repertoire and emotional expression through singing
– Advanced ear training
– Stage presence and performance: coordination of body and sound expression
– Use of mic and essential gear
– Business and production tips for beginning artists
☆Songwriting:
☆LYRIC WRITING
– Creative flow and routine for writers
– Object Writing: Anything can be turned into your next song
– Rhymes and stressing, using the natural rhythm of words
– Literal vs metaphorical lyric writing
– Show dont tell
☆SONG WRITING
– Writing hooks and catchy melodies
– Lyrics, chords or melody, where to begin? Circular song construction
– Reharmonizing: Spice up your 3-chord song
– Songwriting for singers: writing for your range
The power of repetition in contemporary music
– Feedback of songs written outside of class
– Prosody, writing music that supports your lyrics
– Harmonic elements of main genres
– Recording your demo at home: producing for songwriters
– Ear training and modal chords
– Techniques for fusing genres
– Business and production tips for songwriters
"Oriana has been absolutely incredible. I don't have anything negative to share about her. She has raised my daughter's confidence level more than anyone else. Not only does she teach the fundamentals, she goes above and beyond, and always teaches to the age appropriate level. She knows how to relate to her students and make them feel accepted. My daughter has learnt so much from her and her love for music has grown exponentially. We love Oriana!"
Nicole C. and daughter (online lessons)
"I tried lessons with 3 different instructors in my area before making a decision, and Oriana is certainly the best."
Kan H.
"Oriana is wonderful! I am really nervous to sing in front of people. I was scared for our first visit, but Oriana made me feel really comfortable. She was really encouraging and taught me a lot too. She's been a great teacher. I'm grateful to her for helping me break theough my shell."
Kaylie T.