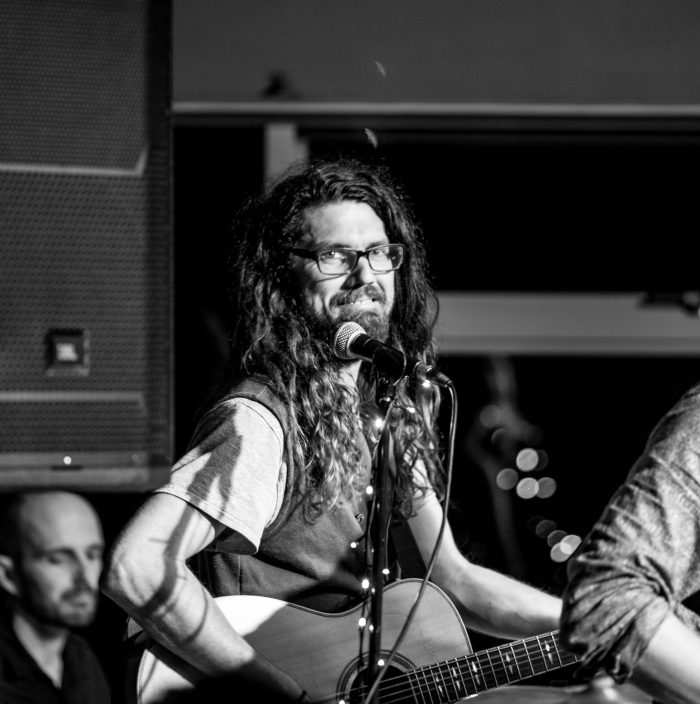 Hamilton
Mixing and Mastering Lessons | Bass Guitar Lessons, Drum Lessons, Electronic Dance Music Production Lessons, Guitar Lessons, Singing Lessons | Artist development, Ensemble Coaching, Song Writing Workshops, Theory Lessons, Composition Lessons, Skype Lessons
---
Qualifications:

Bachelor of media arts Majoring in Music Production , Nelson School of Music performance certificate

Pricing:

$46 half an hour or $60 for 1 hour

Styles:

All

Suitability:

7-70
---
Bio
Regan McKinnon is a Hamilton Based Music Producer working out of the Porch Recording Studio.  Regan  has worked in the New Zealand music industry producing albums, EP's and singles for many artists since gaining a Certificate in Contemporary Music Performance at Nelson School of Music and a Bachelor of Music Production at Waikato Wintec. Regan's ability to create multiple genre-based work has seen him involved with a large variety of work. Regan has been involved and worked with the Porch Recording Studio, Dudley Studios, Roundhead Studios, York St Studios, Revolver Studio as a freelance Engineer/Producer.  Regan thrives on seeking out and developing young musicians!  If you are someone who aspires to do something great with music creation then Regan not only has the ability to assist but has the facility and resources to make it happen for you!
---
Teaching Info
I happily base all my lessons in a recording studio environment and utilise recording technology to not only help students and parents analyse performance progress but also for learning how to play with accompanying instruments.  When I teach a a student to play/sing a song I will usually base the lesson around playing the song with a full backing track.(drums, bass and vocals/or guitar etc)…  this is not only excellent for rhythm but also a great way to help a young musical brain learn to play with feel….and better yet, get to listen back to the performance and have the lessons progress emailed as an mp3.
If you are seeking music production / beat making / composition/ song writing development then this is an opportunity to get experience learning in a profession recording studio.
Limited to 10 students a week get in quick!
Coming from Liverpool, England the home of the Beatles and the epicentre of the musical world, I was looking for somebody that could hear the ramblings that were in my head and turn them into something epic. I searched and searched for a producer but all I could find was empty lifeless sounding music; music that had no consistency. To put it another way, imagine music was a onion, the music I was hearing from the so called big guys had no layers. Then I found Regan! Regan is a musical freak, a mystery a fairy tale.. What he did for me was seriously life changing. He made me believe in myself once again and he also directed me back onto my musical path. Anybody can put a mic in front of a guitar or drumkit and press record but it takes a genius to feel your passion and help it grow into something you thought it couldn't be. That genius is Regan..

 https://open.spotify.com/album/5P5xxoSi5lGHJo6x3DHObQ
Dean Taylor-Levey
I had the pleasure of working with Regan McKinnon in 2009. I was recording a full length album and Regan took the reins as head engineer/producer, displaying an incredible natural ability at re working songs to a professional and radio worthy standard whilst having total control of the studio in terms of achieving the best possible sound from the amazing gear on offer at the studio. Regan has a fantastic working relationship with a range of New Zealand's top session musicians and often employs the skills of these people's full effect in the studio to achieve a truly professional sound. Regan's laid back personality allows his clients to relax in an idyllic setting while he constantly challenges himself and every artist who he encounters to better themselves in order to create a product of the highest level http://mattbodmanandthevalentinegrind.bandcamp.com/track/i-love-new-york
Matt Bodman
Ladies and gentlemen of all ages and decrees...in the five years that i have been labelled a "singer/songwriter", i have had the esteemed privilege and pleasure of working alongside Regan McKinnon. During which time Regan produced, mixed and mastered my debut EP "this is my home". Having never had any experience recording, Regan gave me the incentive to "relax and let the creative juices flow", which in turn, allowed me the freedom of being an artist. Regans' ability to hear how my music is meant to sound brought out the best of "what my music means to me"...so if any of you out there with the urge to record who you are through song or music...i recommend you give Recording with Regan a go...I did...and three years later, Im still in love with my CD...peace https://soundcloud.com/watson-tuhua/reflections
Watson Tuhua
I have had the privilege of recording my own songs, and also working as a session guitarist for Regan McKinnon for the past 5-6 years. From small beginnings in small rooms with not much to work with, to bigger and better things and now his own professional studio. You always know you will come out with a radio-quality product. https://www.simonhirst.co.nz/music
Simon Hirst
Working with Regan was an absolute blast, he is multitalented and can play many instruments, has a tonne of ideas, is open to new ideas and ways of recording and is just a bloody decent guy. I found it really easy working with him, not only is he an amazing producer but is also low key a comedian, so it was always fun and up lifting to be in the studio with him. I could not have asked for anyone better to record/produce and mix my first EP with, I would highly recommend his services and company!! https://shanneleeray.bandcamp.com/track/blue-skies
Shannelee Ray Etches
Over the past year I've been working with Regan McKinnon from Little Kingfisher studios on my debut album at his studio in Hamilton. As a producer, creative mentor and instrumentalist Regan made the whole process extremely easy, fun and most importantly helped me create an album I'm extremely proud of. Along with being a talented multi-instrumentalist, as a producer he helped completely transform my tracks- adding direction, vision and encouraging me to try something new and explore musically. I can't give a high enough recommendation to Regan or thank him enough for his work producing, mixing and creating this album with me. He's a rare talent with a great ear, creative spark and above all is one hell of a man. Look forward to making the next one with Regan!
Jack wallis
"Regan has been teaching my young son for the past 3 years. Regan has taught my son a great range of musical skills and has always encouraged him to work hard to achieve well beyond what he believed he was capable of, and given him the self-confidence to perform on stage. Regan is extremely talented, patient, and kind, and I am grateful that my son has had the opportunity to sing and produce music in a studio setting under Regan's guidance. I would highly reccomend Regan to anyone considering embarking on learning or enhancing their musical skills" - Andrea
Andrea Keepa and son Emmett
"On a complicated studio session, packed with musicians expected to perform flawlessly on 9 unfamiliar, yet complex songs in two days, you need an experienced engineer with a calm head, great ears and lots of quiet, sensible production advice. Reagan provided just that, as well as making everyone feel thoroughly comfortable. Thank you!"
Maciek Hrybowicz
My band, Debbie Fear spent two weekends late in 2018 with Regan recording our first EP, Contact Issuer. It was without doubt the best experience I have had in a studio to date. Regan is a true professional in every aspect of his work and has become a good friend in the process. We will definitely be calling on him again to help us record and produce our next album. I would highly recommend him to anyone looking to get into anything music!
Finian Casey - Debbie fear band
I loved working with Regan on my latest track. He went above and beyond my expectations repeatedly throughout the process. I have found him to be very skilled in the musical and technical elements of studio work and producing and easy to get on with.
Anna Dobbs
Regan McKinnon wrote, co-wrote, arranged and produced my second album entitled 139. Working with Regan was a pleasure- he listens, respects, advises, stretches, hears and composed great music and provides a nurturing and inspiring environment for me to work up to and at my best and in my genre. I also gained a valued friend. He gave me the gift of my writing and thoughts put into my heart language......song.
Debbie Shepherd