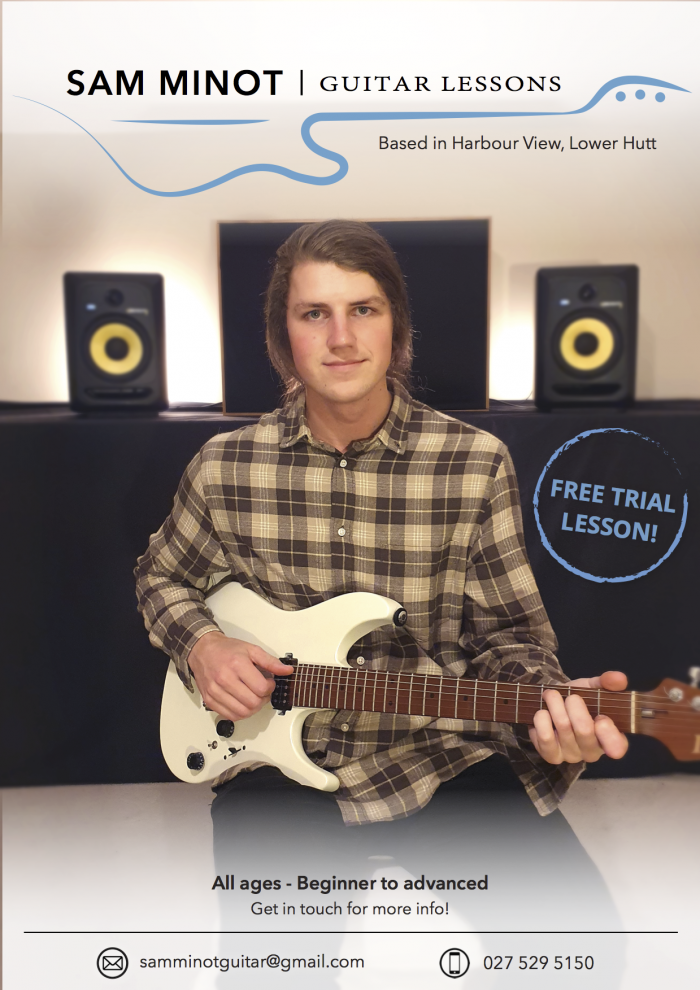 Lower Hutt
Guitar Lessons | Theory Lessons, Composition Lessons
---
Qualifications:

Bachelor of Commercial Music

Pricing:

First lesson free - $40 half hour lessons or $70 full hour lessons

Styles:

Rock, Pop, Blues, Metal, Acoustic

Suitability:

All Ages - Beginner to advanced
---
Bio
I'm Sam, and I grew up in Lower Hutt Wellington. I've been playing guitar for 14 years, specialising in Rock, Metal and Pop styles. Through playing with my band Pale Lady, I have performing experience from touring around New Zealand and internationally. I have also been involved in songwriting, producing, recording and mixing for a wide variety of projects.
I am happy to have the opportunity to pass on my knowledge and experience to others through my lessons. From 9 years of teaching experience, I  have developed a method to effectively facilitate my students' unique music journeys in a fun and engaging way.
---
Teaching Info
For all of my students, there is conversation about an overall goal to work towards. It may be as specific as playing one guitar riff in full, or it could be as general as improving improvisational ability. I break the goal down into practical steps that I take the student through. Most of the time, this is done by learning songs. For beginners who aren't sure of a goal, I also encourage them to learn songs so that they can gradually improve their technique, musicality and theory.
Something that is commonly overlooked in music lessons is teaching students how to practice effectively. I ensure that at the end of each lesson, the student goes away with a clear understanding of what they should practice, how they can do it, and why it will help them achieve their goal.