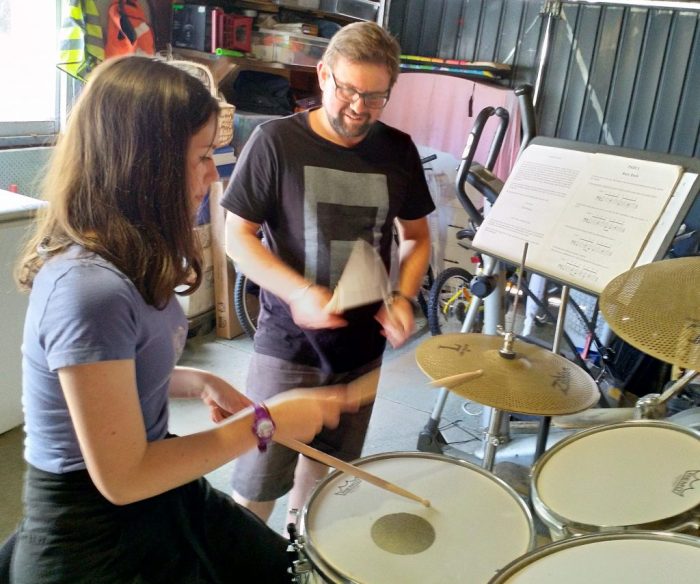 Rangiora
Drum Lessons | Artist development, Jazz Improvisation Lessons
---
Qualifications:

Advanced Diploma in Jazz

Pricing:

$40 for a 40 minute individual lesson (weekly); $55 for a one hour individual lesson (weekly or fortnightly)

Styles:

jazz, rock, pop, latin

Suitability:

All ages
---
Bio
I have been playing drums since I was thirteen, and majored in drums and percussion at the Christchurch Jazz School. After graduating in 2000, I taught and played drums full time, at the Christchurch Rockshop and various high schools around Christchurch and North Canterbury.
I later moved to Australia with my band degrees.K and toured Australia and New Zealand across 2 years, recording and releasing high energy rock music. More recently I have organised and trained the music teams for my churches, branching out into other instruments. But drums remain my musical passion, and I am excited to share that passion with my students.
---
Teaching Info
From those just starting out on the drum kit to experienced players wanting to expand their drumming vocabulary, I am able to teach people at every level at my Rangiora home. I am experienced in jazz, rock, pop, latin, and various other styles. All areas of drumming can be covered: from basic rudiments, to interdependence of limbs, to musicality and the art of playing in an ensemble.
Together we will work on your drumming goals, and I will give you the guidance, feedback and ideas you need to help you achieve them. Whether you are from Rangiora, Kaiapoi, other parts of North Canterbury, or even further afield, I'd love to help you grow your drumming ability.
Lesson times are limited, but can be flexible – click here to get in touch and enquire.
As a drummer of 18 years, I approached Chris with the task to, 'increase my tool box, and make me an all-round better drummer' – which is exactly what he has been doing. His wealth of experience and knowledge as a drummer, combined with his unique personable approach to teaching, makes him the ultimate go-to man when it comes to drum tutoring. Not only are the lessons challenging, they're also incredibly enjoyable. The passion I have always had for drums from a very young age has been taken to a whole new level since starting lessons with Chris, and I can honestly say, that I would happily recommend him to anyone of any skill level who is serious about drums.
Josh, drum student at Spark Studio