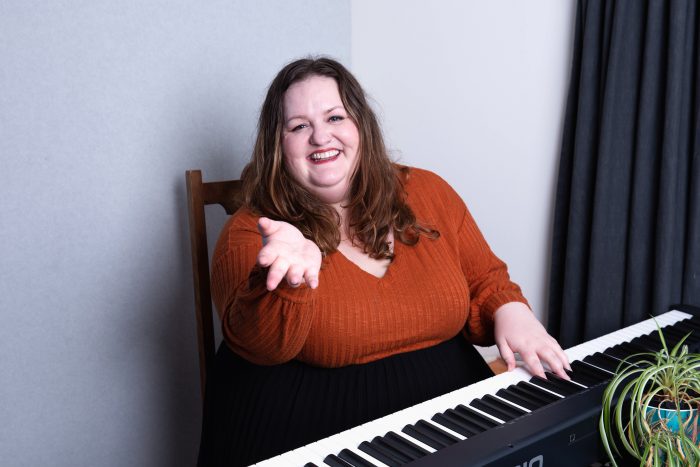 Auckland
Singing Lessons | Online Lessons, Posture for Singers and Instrumentalists
---
Qualifications:

Intermediate Trinity Guildhall Vocal Certification, NCEA Level 3 Performance, 10 years training, 3 years teaching

Pricing:

INDIVIDUAL: 30 minutes - $40, 60 minutes - $70, GROUP

Styles:

Contemporary, musical theatre

Suitability:

Ages 10+
---
Bio
My name is Victoria Hollings and I've been studying the art of singing and performing for over ten years. For the past three years, I've been using my experience to help people realise their potential and have fun doing it!
My main interest is in contemporary singing, with a large dose of musical theatre. I've performed at fashion shows, in stage shows and venues in both New Zealand and England
---
Teaching Info
I can't wait to meet you!
This is not your average singing lesson, friend. We'll talk vocal technique and vocal safety, but we'll also tackle mindset, goals and all your big dreams.
Maybe you've been told you "can't sing" or maybe that's something you tell yourself. Maybe you're in need of someone who's as passionate about music as you are, to show you what's possible.
We'll give you the tools you need to feel heard, confident, inspired, and empowered to be the singer you were born to be!
Vocal Coaching
Are you completely new to singing? Have you never had a lesson before? No problem at all! I'm a firm believer that singing is for everyone, and that with a bit of practice and the right tools, you can achieve things you might not have thought possible.
Got a few songs in the works but can't seem to finish them? Want to up-level your singing and performances? You've come to the right place. Accountability and having someone who can see past your blind spots is invaluable for a developing musician.
Sessions are tailored to individual needs, but we also cover breathing, agility, styling, high and low notes, performing, mindset and everything you need to become to singer you were born to be!
Lessons can take place online or at my studio in Massey, Auckland.
"Victoria's teaching method is very clear. She is a well trained coach. I started my lessons as a beginner, and quickly I was able to build up my skills. She is very pleasant and kind teacher. I recommend Victoria as a coach."
Sachini
"I have learned how to do tonnes of things, like how to hit high and low notes in singing. I like how Victoria lets me pick my own songs and she also helps with negative thoughts."
Chloe
"Victoria has a friendly and knowledgeable manner and my daughter really enjoys the sessions. It is great that she works on modern songs that my daughter enjoys."
Rachel