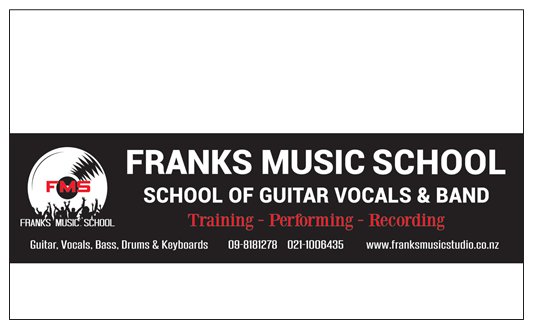 Auckland
Singing Lessons | Bass Guitar Lessons, Drum Lessons, Guitar Lessons, Keyboard Lessons, Ukulele Lessons | Aural Lessons, Ensemble Coaching, Song Writing Workshops, Theory Lessons, Composition Lessons, Jazz Improvisation Lessons, NCEA Music Tutoring, Online Lessons
---
Qualifications:

Bachelor of Music; G/Dip in Music Teaching; Dip in Jazz

Styles:

All Contemporary Styles

Suitability:

All Ages
---
Bio
Frank has 30 years experiences in performing in bands(live gigs) and music tutoring professionally . Bachelor of Music from the University of Auckland; Completion of 2nd year Jazz Performance in Massey University(NZSM); G/Dip Music Teaching; One of the two NZ examiners of Rockschool UK under AMEB. Teaching in local schools. has been An Art Director 4 NZ International Youth Music Festival 2015 & 2014; A judge for the Global battle of the bands Auckland Regional finale in 2010…
---
Teaching Info
*Guitar Lessons: Acoustic,Electric,Lead,Rhythm,Bas­s ,Ukulele & Mandolin. Levels from absolute beginner via grade 1-8 till diploma/professionals. Genres from Rock, Blues, Metal, Jazz ,Latin, Funk, Reggae, Country, Folk & Fusion. From speed techs; Modes Improvisation; Chord-Scale Jazz Concept to Finger-style Chord-Melody solo methods for performing & Arranging.
*Voice Lessons: Contemporary Styles & Vocal Production Techniques from Legitimate(Support,Blending,Bridg­ing,Mask,'Estill'…) to Rock/Pop/Jazz Vocal Techniques(Twang,Belting,Husky,Growling,Distortion,'­Shouting','Screaming' & Death Voice,'CVT'…). Pro Vocal Coaching on Recordings & Gigs.
*Self-Accompanying Singing with Guitar/Bass or Keyboard/Piano or Drums. Impromptu Accompaniment(Pop/jazz theory)
*Pop,Rock,Jazz Band;Worship Band & Improvisation Training: Vocals, Guitar, Bass, Keyboard & Drums & Melodic instruments such as trumpet, Sax & Violin etc(intermediate level and above)
*Mentoring for original music writing, arranging and rehearsing as well as cover band training.
*NCEA music assessment preparation;Grade exam preparation & University entry preparation(audition & theory).
*Learn two or more instruments at one lesson/week, Multidimension Music Learning.
Students of all ages and abilities welcome.
@call@ Refer this advertisement, get a first trial lesson for free including a Vocal Assessment!
* Professional Band Hire-any occasions emphasis on Chinese Western cross cultural music.
More info please visit:
Email: info@franksmusicschool.co.nz
http://www.franksmusicschool.co.nz