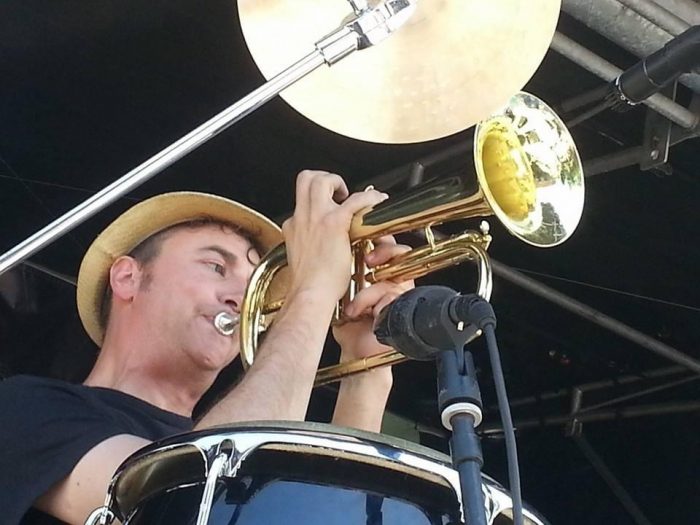 Christchurch
Trumpet Lessons | Cornet Lessons, Flugelhorn Lessons | Ensemble Coaching, Theory Lessons, Jazz Improvisation Lessons, Mixing and Mastering Lessons, Posture for Singers and Instrumentalists
---
Qualifications:

BA Music, DipJazz, DipAudioEng

Pricing:

P.O.A

Styles:

Jazz Improv, Classical, Pop

Suitability:

All ages
---
Bio
Julien has been playing trumpet for over 35 years and continues to play professionally with many groups nationally. He is based in Lyttelton and teaches brass in secondary and primary schools in Christchurch. Julien has an interest in postural and breathing techniques for brass players, he is a qualified and experienced yoga teacher and applies this knowledge of posture, breath and alignment in brass education to great effect. Julien continues to teach encouragingly and has an aptitude for creating a musical spark and rapport in younger players. Julien also has an interest in electronic manipulation of brass, live sound reinforcement, recording, mixing and is available for advice and lessons in this area.
---
Teaching Info
Lessons cover breathing, posture, technique, reading, improvisation, rudiments and style. From beginner students to those with more experience. An emphasis on playing duets to develop articulation and a musical ear.
'Julien Marchand taught my son the trumpet for eight months. Given Julien is a exceptional trumpeter himself, this was a fantastic start and a privilege to have him working along side my son. I found Julien to be warm, welcoming and approachable.
Harry Hurley
'Julien taught my son trumpet for just over a year. He was good at diagnosing where my son was struggling with a piece of music and patiently helping him work through the issue to improve his performance. He also made it a priority to ensure my son could play well with others, either through live duets or with tracks of music; effectively using technology while engaging my young teen.'
Jake Borden
'The patience Julien has coupled with determination to get Yza to hit certain notes, warmed me to him, but his amiable disposition is what really won me over at the end. There are many good teachers out there but seldom do we come across great ones. You know you have found a great one when the student enjoys attending their lessons. Calm, funny and fair are some of the words Yza uses when she talks about Julien. Regardless how far Yza goes with her music, it is the enjoyment she attains from her endeavour that matters the most. Credits to Julien for making learning fun and enjoyable. Julien is a great teacher. Highly recommended.'
Fuivai Mata'u