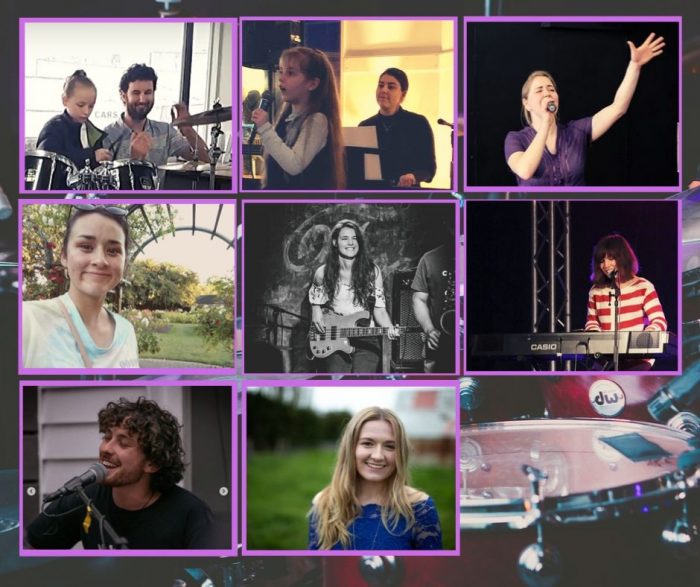 Christchurch
Singing Lessons | Bass Guitar Lessons, Choirs, Drum Lessons, Guitar Lessons, Keyboard Lessons, Piano Lessons, Ukulele Lessons, Violin Lessons | Artist development, Aural Lessons, Ensemble Coaching, Song Writing Workshops, Theory Lessons, Composition Lessons, Drama Lessons, Jazz Improvisation Lessons, Music And Movement For Under Fives, Mixing and Mastering Lessons, NCEA Music Tutoring, Posture for Singers and Instrumentalists, Skype Lessons
---
Qualifications:

Bachelor of Musical Arts

Styles:

Any

Suitability:

Any
---
Bio
Mrs A's Music School is a family owned business. Mrs A's Music School teaching system originated in Timaru and was started by Jannette Aldridge; a teacher who has taught numerous ages and stages throughout New Zealand for over 30 years. Christchurch has a Sydenham based music school that is run by Elly Aldridge, daughter of Mrs A.
Both the Timaru and Christchurch schools share the same core values:
Give everyone the right to learn music
Help students plan and achieve goals
Find the recipe for effective learning
Face reality with honesty and courage
Respect the people, equipment and facilities
---
Teaching Info
Group Lessons – $10.35-$15.00 (depends on group size)
Singing Group 9 years+ Monday 4.00 pm
Ukulele Class Tuesdays 3.30 pm
Singing Group 6-9 years Tuesday 4.00 pm
Rock Band Drummer Position Wednesday 4.30 pm
Friday Mini Music Makers (under 5's) Friday 4.00 pm
| Percussion Group | Guitar Club |Rock Band | Adults Choir |
---
Meet the Teachers
Wade Sloper – Guitar & Drums
Wade's passion for music has seen him on an 11 year journey of playing in bands and university groups on drums and guitar. He currently is working in several bands as well as teaching group and private lessons at Mrs A's.  Wade loves seeing students perform at the end of each term. Wade is driven to seeing students succeed in their technical abilities and understanding in every lesson.
Monday 5.00 pm
Wednesday 5.50 pm
Lisabet Morgan – Piano and Vocals
Lisabet has been learning piano since she was six and is currently working towards her Diploma in Performance Piano. She also sings and plays guitar and has performed and competed in various events around the Manawatu. Lisabet is excited to be able to share her passion for music with others here in Canterbury while she studies at the University.
Tuesday 6.40 pm
Friday 3.30 pm
Hannah Snelling – Piano, Singing & Drama
Hannah's passion is to provide children with the skills and confidence to express themselves through performance. She works well with all ages and stages with special skills in drama and under 5's musical development.
Thursday 3.30 pm or 6.00 pm
Tasha Fraser – Piano & Violin
Since the age of five, Tasha has been playing the violin.  First introduced through the Suzuki method she is adaptable to 'find the recipe' for every student.  Tasha loves working with people, encouraging them to grow and experience the fun in performance. Tasha's experience ranges from working in orchestras, chamber groups, theater music, and performing as a soloist.  Mainly learning classical styles, Tasha is excited to develop her own skills on the violin in a contemporary way.
Tuesday 3.30-4.00 pm or 5.40-6.10 pm
Emily Farrell – Bass, Guitar, and Keyboard Lessons
Emily is bassist who plays many genres such as Funk, Blues, R&B and Pop/Rock. Her love for music started at a young age. She has played bass for several years and is currently is performing in bands Urban Rumour and Black & Gold.  Emily has enjoyed working at Mrs A's seeing students reach new milestones in their performing.
Monday 5.00 pm
Wednesday 4.00 pm
---
Teachers work with school choirs, children and adults alike.  Where appropriate, they set up prizes, star charts, word documents, homework books, recordings and reports.  Students are encouraged to play their way to something special each school term in an appropriate performance setting.
---
Unavailable Staff
Yidda Gilani – Piano, Vocals, Guitar & Ukulele
Yidda is a hard working and friendly teacher who loves working with all ages and stages.  Yidda has recently moved to Christchurch.  She was teaching in our Timaru campus for sometime. We are excited to see how Yidda grows in her own performance opportunities this year, while also helping students with their own performance events.  Yidda's experience ranges from acting, directing, choir, audio engineering, and musical theatre.
Tyler Robbins – Drums, Piano, Guitar and Vocals!
Tyler is a multi-talented teacher who works in and after schools teaching music to all ages and stages. We're excited to welcome him to the team this term! He is a confident and genuine communicator, who brings joy and enthusiasm to every lesson!
Elly Aldridge –

Campus Manager

–  Piano and Vocals Teacher
Elly has been teaching and performing for the last 9 years. She not only connects positively with her students but also creates a welcoming environment for parents to observe and be a part of the learning experience.
As a student, I can strongly recommend Elly Rydge for her excellent tuition for developing skills in singing and performance. She consistently provided quality advice and regular encouragement throughout. Elly always gave honest feedback combined with specific practical suggestions using different media to make steady progress. Lessons have always been a positive experience and great fun!
Barry Hayes
I highly recommend Mrs A's as their positivity and enthusiasm for music is infectious. They encourage their students to do their best at all times whilst having fun. The end of term performance is a great idea as it gives the students something to work towards and increases their confidence to perform in public.
Max (started age 8)
At age 48 I decided it was time for me to take singing lessons. I enjoy singing karaoke (mainly Elvis Presley) in the safety of my mancave at home and always felt I can sing ok but also thought I could improve, especially in certain areas. I was making a few changes in my life and recently did some public speaking, which gave me a bit of confidence, so I decided to go for it. I looked up some singing tutors/schools online and narrowed it down to three. I emailed the three different singing tutors/schools and Elly Rydge from Mrs A's Music School was the only one to reply, which I was very happy about because Elly and Mrs A's looked to be the best that suited what I was after. In saying that, I didn't really know what to expect because I had never done anything like this before. I had never sung in front of anyone apart from my partner who was normally in the next room sleeping (well, trying to sleep) while I had my headphones on singing into my mic. The thought of singing in front of someone else let alone a crowd of people was only in my dreams but having Elly Rydge as my singing tutor has completely turned that around. Although still a work in progress for me, I have now sung in front of lots of people ranging from Mrs A's Music School, a restaurant/bar and busking in Christchurch's Cathedral Square. In less than 3 terms, my confidence has come a long way already. Elly is a fantastic tutor, she makes you feel very comfortable singing in front of her and she supports you throughout the process. Elly has broadened my artist and song choices also and has encouraged me to sing a variety of different songs from other artists and to sing them 'my way', which has been amazing, and taken me out of my box. I have had my moments though! After singing at the bar at the end of term 2, I felt I didn't sing one out of my three songs very well and I couldn't bring myself to watch the video of my performance. The video just sat on my desktop unwatched for several weeks. I eventually told Elly that I was unable to watch it but with Elly's amazing support, she challenged me and encouraged me to watch it, especially with the impending busking performance just a week away. I watched the video just a couple of days out from busking and I'm so glad I did. I'm so glad Elly encouraged me to watch it because it was no way as bad as I thought and in fact it was much better than I thought. This gave me huge confidence going into the busking. Mrs A's is not only about learning to sing or play an instrument, it's also about learning to perform in front of people in different situations and places. Becoming a student at Mrs A's has been the best thing I have done. Thank you, Elly Rydge.
Craig Bishop
Incredibly professional with the opportunity to put practice into performance with an end of term gig. Excellent communication and positivity!
Marley Purdue
From the very first few minutes of meeting Elly, three years ago, I knew we had made the right choice of singing teacher for our daughter, Azorah. Elly instantly made us feel welcome and more like family than student and teacher. The amazing rapport that has grown between Elly and Azorah has lead to our daughter becoming a more confident singer, taking up piano lessons and performing in public on several occasions. Elly and the team are very passionate about what they do and it's wonderful to see that passion spread to the students and sometimes it even gets the parents to start taking lessons as well! It's been a particular pleasure to see how Elly and the school have grown and become such a success, long may it continue. Thank you Elly.
Azorah Pritchard
At Mrs A's we really appreciate how music lessons are individualized and the interest of the student is the focus. That has led to motivation from our daughter to learn and practice without prompting and be excited about music.
Matilda Comins