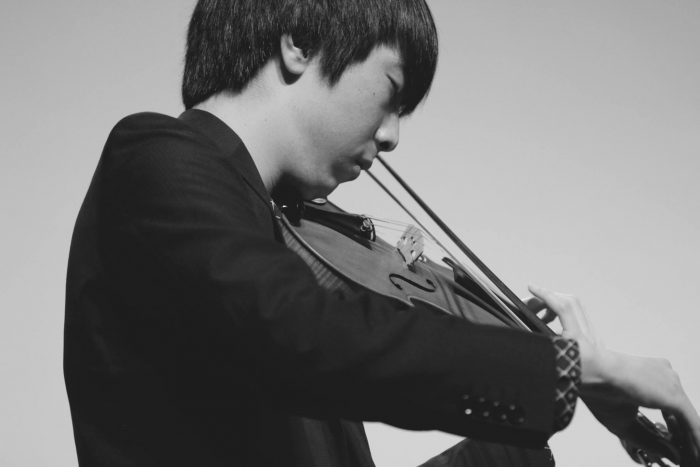 Auckland
Violin Lessons | Artist development, Ensemble Coaching
---
Qualifications:

BMUS (Hons)

Pricing:

$70/hour, $35/30min

Styles:

Classical, Solo & Chamber Music Coaching, Suzuki Method, ABRSM

Suitability:

All ages
---
Bio
A little bit about my self:
Shauno is a New Zealand born and raised Japanese violinist/chamber musician. Soon after his graduation at the university of Auckland he quickly gained international attention through tours and invitations for concert performances in numerous countries over the globe and national tours under Chamber Music New Zealand. He is also the forming member and leader of the Mazzoli Trio.
He has had concerto appearances with the Auckland Philharmonia Orchestra, the International Akaroa Music Festival Orchestra, and the University of Auckland Symphony Orchestra, the latter which he has also been the concert master of. He is a prize winner in numerous competitions including the Salzburg Grand Prize Virtuoso International String Competition (Winner), 2014, 2015 and 2016 Chamber Music New Zealand Music Society Competition (Winner) , KBB/APO National Young Performers Competition (Winner), American Fine Arts Festival International Competition (Winner), University of Auckland Graduation Gala Concerto Competition (Winner), the Australian International Music Festival (Gold Award), Pettman Concerto Auckland Competition (Winner);etc. His International competition success has brought him invitations to perform in Austria & Italy in 2016 and the Weill Recital Hall – Carnegie Hall in 2017. He is also recipient of the Dame Malvina Foundation Arts Excellence Award, the Carl Alberta Rosenfeldt Prize and the Birmingham Wallace Emerging Artists Prize.
His recent tours include the Tsunami Violin Concert Tour held in New Zealand which attracted a full house audience in the Auckland Town Hall Concert Chamber. This was a 100% charity concert tour presented by Shauno and older brother and pianist Kent Isomura, dedicated to the victims of the 2011 Japan Earthquake and Tsunami which featured an all Japanese composer programme. The tour in New Zealand was followed by tour in Japan which was held in Tokyo, Hokkaido, Yamada-machi, Naoshima, and in the Okayama Renaiss Hall where they performed a joint recital together with Hiroko Kondo – Concert Mistress of Okayama Philharmonic Orchestra.
Shauno has also toured with Chamber Music New Zealand in 2016 as the leader of the Pettman Quintet alongside the New Zealand String Quartet in the Quintessence tour and then in 2018 touring as the Mazzoli Trio. He was most recently engaged as an 

official residency artist at the Capital Normal University Conservatory of Music, South China Normal University School of Music and South China University of Technology School of Music, holding multiple seminars, workshops, 

masterclass, and 

performing recitals of music by Japanese, Chinese and New Zealand composers.
Shauno has great passion in contemporary music, and has made collaborations with numerous composers including Missy Mazzoli (USA), Elena Kats-Chernin (AUS), Michiru Oshima (Japan), Benyamin Nuss (GER), World premiere of works by Gareth Farr (NZ), Yao Chen (China), Xu Tang (NZ), Noriyuki Iwadare (Japan) and New Zealand premieres of music by Japanese composers Yasushi Akutagawa, Akira Ifukube, Kuniyuki Takeuchi, Takayuki Hattori just to name a few.
He is currently working on a series of albums in collaboration with modern composers – including acclaimed american Missy Mazzoli – an album featuring a collection of her string quartet and trio works, as well as with Noriyuki Iwadare – an album celebrating 30 years of his music arranged for violin & piano, plus several more in the pipeline.
---
Teaching Info
I am able to teach from beginner to advanced and as an experienced chamber musician I am also happy to teach chamber music ensembles.
Just flick me a message and we can discuss :)