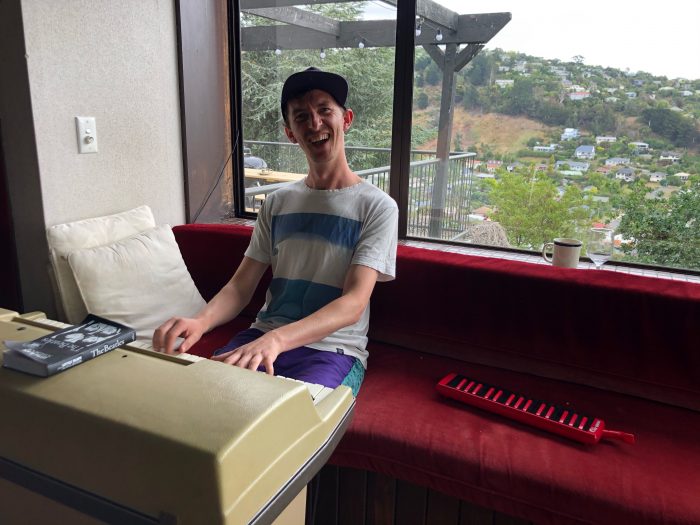 Christchurch
Piano Lessons | Accordion Lessons, Electronic Dance Music Production Lessons | Theory Lessons, Composition Lessons, Jazz Improvisation Lessons, Online Lessons
---
Qualifications:

Bachelor of Musical Arts (ARA), Honours in Psychology (University of Canterbury), Grade 8 piano (Royal School)

Pricing:

$35/half hour, $70/hour

Styles:

All styles! Whatever tune you request, including jazz, classical, latin, pop, blues, RnB, folk

Suitability:

All ages and levels (experienced from primary to tertiary to adult)
---
Bio
Limited spaces!
Why pick me in one sentence:
My passion for lighting fires in others, my experienced music+psychology informed approach, and my focus that you get to learn whatever your heart desires.
Click here to see a 20 second teaser of a lesson
My style:
• fun is essential to learning, at any level
• learn music that the student chooses
• push my students at just the right amount, but always keeping it enjoyable
• empathy. I use my natural empathy plus my background in psychology (motivation, learning, habits) to uniquely aid each student
• holistic development – different styles, ear or reading, improvisation, play time with other instruments
Credentials
I have taught music for 10 years and played for 20.
My fancy qualifications include a degree in jazz piano (ARA), and postgrad in Psychology (UC)
I was performing in Italy at the age of 17.
Active and seasoned performer, composer, sound designer, collaborator (Yurt Party, Chris William, Court Theatre, Scared Scriptless)
Want to find out if I'm the right teacher for you?
Call 022 68 77 515 to arrange a time or send me a message
Teaching from Addington
Learn more about me at my website
---
Teaching Info
In the first lesson we chat about what your musical goals are – that determines the focus of following lessons.
BEGINNERS/INTREMEDIATE:
I encourage you to choose your own songs to learn, or pick ones suitable for you that inspire you.
For beginners we delay learning songs by sight reading as it is a tough learning curve. Instead we focus on memorisation. i.e. straight to the fun!
Sight reading and other important theory concepts are gradually incorporated.
Early focus on improvisation. I pride myself on making this natural for even the most self conscious.
At the end of lessons there is fun time to explore other instruments (drums, keyboard sounds)
ADVANCED:
we assess your existing goals, learning style, abilities, and develop a plan.
when you run into problems (technical, practice, motivation, life) I help solve them.
things you can learn from me:
GENERAL
How to practice (including psychology of motivation, habits)
Playing by ear / sight reading
Technique and theory
Musicianship and attitude
Having great groove and timing
More specific areas include:
IMPROVISATION
Learn Tom's intuitive, stress free improvisation.
Plus the simple underlying rules that make melodies/improvisation work
CONTEMPORARY/POP/RnB
Learn tunes by your favourite artists
Accompany a singer (or back yourself)
Learn more beautiful chords to spice up your sound
Learn to play piano rhythmically
Learn how to make awesome sounds with synths, apps, etc.
Learn how to set up a home studio/use DAW recording software like Reaper.
JAZZ
Learning to improvise
Playing in a band
Jazz harmony and chords
Composition
CLASSICAL
Learning tunes by the masters
Interpreting a tune (emotions, dynamics, phrasing)
Advanced technique
PLAYING IN A BAND
Learn about the different roles in the band (rhythmic, melodic, harmonic) and how you can make the most of them
Learn to play basslines
Learn how to make your band groove better
Learn tips on how to rehearse
COMPOSING
Learn methods/processes to get the ideas flowing
Get help to grow your songs with enthusiastic and experienced feedback
Get recorded to high quality in lessons or learn how to record yourself
Learn about writing for many instruments (and DIY on a synth, computer or smartphone)
ELECTRONICA
learn synth programming and sound design
learn midi (including interesting unusual controllers, MPE)
learn sound FX, plugins
learn basic mixing principles
learn useful harmony to develop your songs