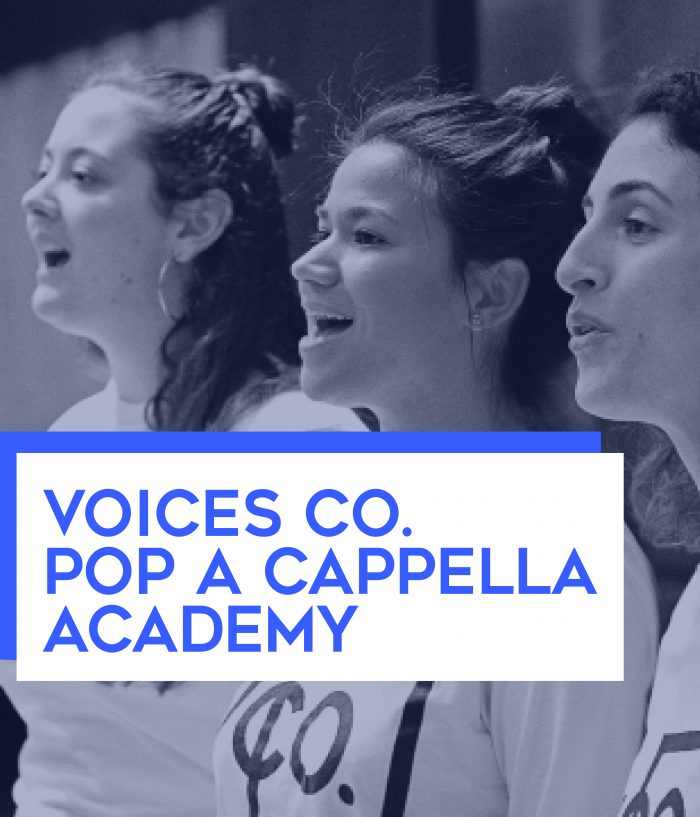 Christchurch
Singing Lessons | Choirs | Artist development, Ensemble Coaching, Music And Movement For Under Fives
---
Qualifications:

DipABRSM, MusB, BSLP

Pricing:

Tuition options starting from $40 - a full price list can be found on our website under the 'Fees' and 'Private Tuition' tab

Styles:

Pop, Contemporary, Musical Theatre, A Cappella, Harmony, Vocal technique, Contemporary & Pop Singing, Artist Development, Audition Prep, Singing Examinations,

Suitability:

Singing & Pop A Cappella for all ages and stages: (from ages 3 upwards!)
---
Bio
Voices Co. is NZ's leading pop a cappella Academy, and winners of TVNZ's reality competition The Naked Choir.
At Voices Co. we are passionate about raising up singers of all ages and stages to see them equipped with the very best in vocal technique, encouraged in their passion for music, and empowered to find their own voice.
With this in mind we offer a wide range of vocal training opportunities, from private tuition through to group singing lessons and auditioned a cappella ensemble training. Whether you're looking for training in a group capacity, a unique vocal outlet, or private tuition of the highest calibre, we've got something for you!
OUR ACADEMY :: Equip        Inspired by music like Pentatonix and Pitch Perfect, Voices Co. Academy is NZ's only vocal programme specialising in the genre of Pop A Cappella.  At Voices Co. we train our vocalists in all aspects of contemporary singing and pop a cappella, from the more traditional elements such as vocal technique, musicianship, group harmony right through to vocal percussion, performance artistry, and even beatboxing! The addition of more 'contemporary' elements, like beat-boxing and vocal instrumentation, has helped reintroduce a cappella singing to pop culture and open up an even broader range of opportunities to those willing to take up the challenge!  While pop a cappella is our passion, our classes are tailored to suit a range of singers, and are heavily focused on vocal development applicable to any style of music. As well as our thriving Academy we also offer singing tuition to singers at all levels, both privately and in a group setting.
\\\///
OUR TEAM :: Empower      We are lucky to have some of NZ's leading vocal practitioners on our team. Our tutors have been in demand across NZ as performers, adjudicators, community mentors, vocal coaches, and music directors, with extensive experience as professional vocalists themselves. We are big believers in developing well rounded and experienced musicians, as well as great performers – for vocalists, as with any musician, this includes a strong foundation in vocal technique, performance capability, musicianship, as well as the practical side of developing your own 'instrument' – your voice!
\\\///
OUR STUDENTS :: Encourage      A key skill to developing confidence as a singer is performance! As well as participating in our own sell-out concerts, our students have had some amazing performance opportunities with Voices Co. Academy, including performances on the Adam & Eve Show, What Now, Coca Cola Christmas In The Park, Ali Harper's 'Christmas Joy' tour, NZ Hi-Tech Business Awards, The Hits, Christmas For The City, Champion Canterbury Business Awards, the Canterbury Earthquake Memorial Service and a number of Voices Co. music videos.
\\\///
IT'S ALL ABOUT YOU :: Voices Co.      If you're a lover of music and are keen to find a new outlet, or to progress in private tuition then we have something for you!! Get in touch with us today and we'll help you find the right fit!
hello@voicesco.nz    \\\///   www.voicesco.nz    \\\///   027 308 4586
---
Teaching Info
At Voices Co. we are passionate about raising up singers of all ages and stages to see them equipped with the very best in vocal technique, encouraged in their passion for music, and empowered to find their own voice.
VOICES CO. ACADEMY (Small Ensemble Training)
Adult Open Class, ages 17+  (beginner vocals / group singing lesson)
Adult Crew, ages 17+  (all-comers Pop A Cappella)
BeatBoppers, ages 3-6 (musicianship + singing for wee ones)
Junior Crew, ages 7-16 (kids/teens Pop A Cappella)
Squads (Junior / Youth / Adult professional Pop A Cappella groups – appointment by annual auditions)
VOICES CO. TUITION 
Private Tuition (all ages)
Itinerant Tuition (all ages)
Adult Open Class (group vocal lessons)
A Cappella Clubs (in schools)
Private Vocal Workshops
For more information head to our website: www.voicesco.nz or email us: hello@voicesco.nz
WHAT PEOPLE HAVE TO SAY ABOUT US:
"World class" – Chris Bruerton (The King's Singers)

"Beautiful people with an amazing gift. One of the best concerts I have been to. Thanks for all your hard work training others, what great role models!" – Pauline (audience member)

"I loved trying different things in our lessons, it's always fun. My highlight was singing with Ali Harper and being on stage, I loved it" –  Oscar, age 8 (Voices Co. student)

"As a music therapist in Christchurch I thought I would support something local and was literally stunned by the professionalism, talent and polish from the Premier Ensemble through to the kids group. Wow, we have this available in Christchurch!!! It's world class!" – Liz (Music Therapist)

"A fantastic, talented group, who have put Christchurch on the map." – Lindy (audience member)

"Our students absolutely loved their workshop with Voices Co. It gave the students a taste of what is possible for their own singing and how they can make music their own – within 20 minutes they were singing in four parts under their skillful direction and modelling! Thank you for such a valuable experience!" – Philippa (HOD Music)
Voices Co. Academy has been one of the highlights of my music career, and I can't recommend them highly enough. The calibre of vocal training is genuinely world-class, and the passion that the team exhibit for singing is apparent in every class, rehearsal and performance. I have been singing with Voices Co. for upwards of 2 years and in my time with the Academy have had the chance to sing on their CD, have filmed a music video, performed at national events, and met some amazing people. The community of singers at Voices Co. is second to none. I have grown so much as a singer and performer, but more importantly my confidence has grown.
Sarah
My son has been singing as part of Voices Co. Academy kids programme for 2 years, and we have been so thrilled to see him excelling in his music and performance. He loves going to class every week, and his sense of tuning and pitch has improved so much from singing a cappella, and all the musicianship training that their classes include. Seeing him perform in such a professional show is wonderful, and we're always blown away by the level of what is produced from all the singers who take part. Voices Co. is something very special that Christchurch is so lucky to have!
George
They encourage and challenge you to go to that next level in your singing and performance without judgement or condemnation. And it's always so much fun getting to know other like minded people keen on music the way you are!!!!
Liz