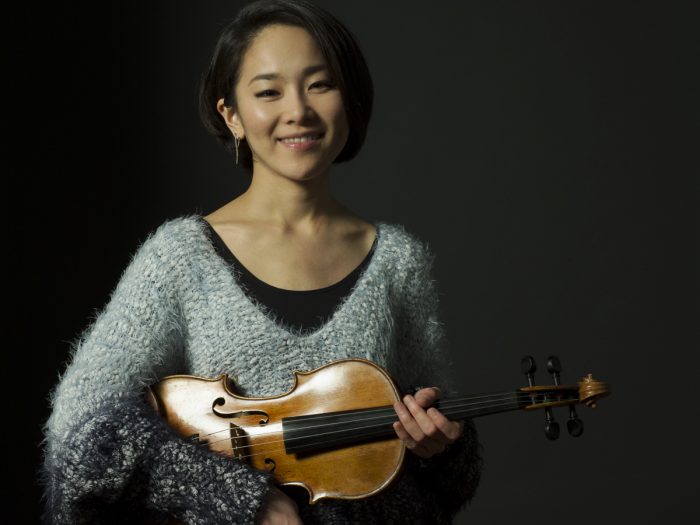 Auckland
Violin Lessons | Viola Lessons | Alexander Technique Lessons, Aural Lessons, Ensemble Coaching, Music And Movement For Under Fives, Online Lessons, Posture for Singers and Instrumentalists, Theory Lessons
---
Qualifications:

MA in Performance at Royal Academy of Music(London), PGAD and ISP at Trinity Laban Conservatoire of Music and Dance(London), BA and MA at Musashino Musicae(Tokyo)

Pricing:

32NZD for 30 mins/ 48NZD for 45 mins/ 62NZD for 60 mins

Styles:

Mixed ways, ABRSM,Rhythmics in Japan

Suitability:

3 to 60 yrs old
---
Bio
A native of Japan, violinist Yuhka Nagai graduated in 2014 from the Royal Academy of Music in London as a student of Mayumi Fujikawa . Currently, she holds Auckland Philiharmonic Orchestra fellowship program in Auckland, New Zealand. She also holds Diploma at Trinity Laban Conservatoire of Music and Dance as a scholar of 2 scholarships and MA in Performance degrees and LRAM teaching qualification from the Royal Academy, and Bachelor of Arts and Masters degrees from the Musashino Academia Musicae in Tokyo, Japan. In addition, she has also obtained teaching qualifications in Japan, which allowed her to teach at select local high schools, and has enabled her to pursue her passion for teaching in London as well.At the same time, Yuhka was selected to play in the Musashino Academia Symphony Orchestra as leader for 3 years, from 2007 to 2010. An active solo and chamber musician, Yuhka has been a member of a variety of chamber music ensembles and has performed at the venues such as Cadogan Hall, St Johns Square and St James Piccadilly and The old Royal Naval College Chapel. Yuhka took many masterclasses with prof. I. Gitlis, B. Sayevich,V. Balzalorsky,G. Poulet, U. Hoelscher R. Daugarell, Kazuki Sawa, T.Brandies and R. Waterman. While a member of the piano quartet, "Blüte," she won third prize in the 1st Memorial Tokyo Art Chamber Music competition, and later this ensemble's recital was sponsored by the Tokyo Art Center. She is currently the violinist of the Kodo Quartet which is selected for a programme of The Richard Carne Mentorship with Caducci and Wihan String Quartets at the moment. In addition to this, in 2015 Kodo had been selected for the competition, "The Richard Carne Intercollegiate String Quartet Competition 2015 at Trinity Laban Conservatoire Music and Dance. After coming to London for studies, Yuhka has performed in several lunchtime concerts. Devoted to music, she focuses on her relationship between her heart, mind and body and is a passionate advocate for introducing Japanese composers such as Hikaru Hayashi to a wider audience in the United Kingdom. Aside from music performance and education, Yuhka learnt different approaches to improving musical performance through mental training with Dr. Shuichi Tsuji and Alexander Technique with John Crawford.
---
Teaching Info
Hello,
Are you interested in violin lessons?
If so, let's try to start learning the violin with me!I have worked at a high school as a music teacher with my teaching licence in Japan!After I came to London,I have been teaching some students in Japanese and English.I graduated from the Royal Academy of Music as a Master student and also got a certificate of LRAM (Teaching qualification). The trial lesson is 15 dollars. If you are interested, please feel free and contact me!
32NZD for 30 mins/ 48NZD for 45 mins/ 62NZD for 60 mins
For teaching a student who wants to take an audition for music college or for a student who wants to take ABRSM Grade exam I can offer special curriculum. Ask tutor please.
I normally teach at your house or my place in Milford. Please ask me. In that case of travelling to student's house, I will charge you extra cost for travelling fee(Negotiable) .*At the moment I have no time to travel to student's house.*
In addition to this, if you prefer Skype lesson I can teach by Skype as well. The fee will be the same as lessons at teacher's house. Feel free and send a message through this website!