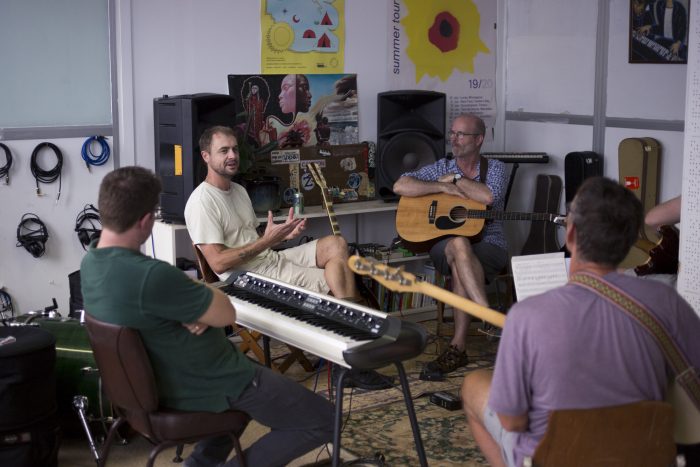 Whanganui
Ensemble Coaching | Bass Guitar Lessons, Blues Harmonica, Flute Lessons, Guitar Lessons, Harmonica Diatonic, Keyboard Lessons, Organ Lessons, Piano Lessons, Saxophone Lessons, Trombone Lessons, Trumpet Lessons | Artist development, Song Writing Workshops, Theory Lessons, Composition Lessons, Jazz Improvisation Lessons
---
Pricing:

2 days/2 nights weekend retreats from $1599

Styles:

Rock, blues, jazz, pop

Suitability:

Adults, all abilities
---
Bio
When Black Sand founders Tim Booth and James Paul began to consider just how many talented hobbyist musicians were out there playing as "bedroom artists", they asked themselves how they could connect these musicians and get them to start playing music together. It was this realisation that prompted the development of Black Sand Music Retreats: a first of its kind all-inclusive luxury weekend music retreat for hobby musicians looking to expand their musical skill set amongst like-minded folks while enjoying a unique tourist experience in beautiful Whanganui.
---
Teaching Info
You will receive four hours band coaching across the weekend, taught by both Tim and James with a 1:2 student teacher ratio for maximised progress.
You will also receive two hours of 1:1 instrument tuition from our professionals across the weekend, tailoring the lessons precisely to each guest's skillset and future ambitions. An outcome from your 1:1 lessons will be bespoke lesson notes to help you develop a practice schedule after the retreat and reenergise your practice and playing ability.
You will participate in a one hour songwriting and arrangement workshop where Tim and James share their knowledge and skills, with an emphasis on reimagining popular songs and original compositions.
The last few hours of a retreat is spent playing and creating a live recording of the music we have created together across the weekend. You will receive a copy of this professional sounding audio recording as a memento to take away with you – the perfect audio snapshot for you to enjoy for years to come.
To make sure you have the best educational experience, every other aspect of your stay in Whanganui will be meticulously taken care of. You'll spend two nights at our stunning New York loft-style accomodation in the heart of Whanganui, surrounded by character filled heritage buildings and a stones throw from Black Sand HQ. A two minute walk from the famous Whanganui River markets, local bars, cafes, and artist studios. Meals will be catered by the chef from acclaimed Wellington establishment Good Boy – sure to add a gourmet touch to the weekend with an unforgettable and personalised food experience for you.
"Relaxed approach, inclusiveness, great location"
Graham Parker
"It was a most enjoyable experience. It also pushed me to practice a bit more, which is something I really needed to do… There is nothing like playing as part of a band, particularly for those students who normally just play at home"
John Maguire