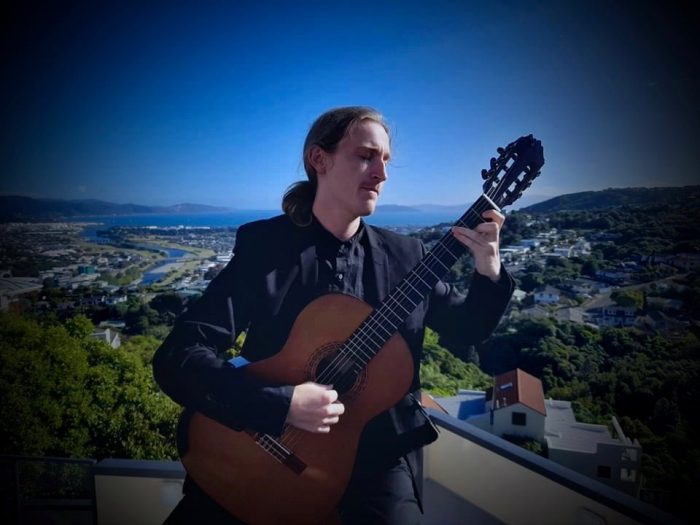 Wellington
Guitar Lessons | Aural Lessons, Ensemble Coaching, Theory Lessons, NCEA Music Tutoring
---
Qualifications:

Bmus Classical Guitar Performance - NZSM Victoria University

Pricing:

$35 - 1/2hr, $50 - 1hr

Styles:

Classical, Blues, Jazz, Rock, Pop, Folk - Fingerpicking and Plectrum (pick) - Mobile Lessons and Online Lessons Available

Suitability:

5+
---
Bio
Learn the way that works best for you!
Chris has spent the last 10 years learning and performing a range of instruments and styles, playing in everything from Electric Guitar in heavy metal bands to Lute in baroque ensembles. He is currently finishing his Honours degree in Classical Performance after graduating with Bmus from the New Zealand School of Music following an overseas exchange to the prestigious Mahidol College of Music, Thailand studying under Dr. Paul Cesarczyk, where Chris focused on guitar pedagogy and history. With lots of experience as both an ensemble player (musical theatre, jazz combo's, orchestra's, rock bands…) and as a Classical Guitar soloist, and over 5 years teaching experience (1 on 1 and group lessons) he has developed a method that ensures a well round learning experience whilst working on the music that interests you the most!
---
Teaching Info
Chris offers personalised lessons to each of his students to ensure that they are learning in a way that works best for them as individuals. Either mobile (travel to you), online, or a limited amount at his teaching space in town.
Some things he can help you with:
-Repertoire (songs, guitar solo, jazz standards, classical guitar pieces…)
-Aural Skill (intervals/chords, transcribing, hearing melodies/harmony, improvisation, sight-singing…)
-Technique (Classical, Fingerpicking, Electric…)
-Reading/Writing a range of music notation (TAB, rhythms, Treble/Alto/Bass Clef, Lute tablature…)
Most of the material used is transcribed and personalised, however Chris also offers learning through the Trinity and Rockschool syllabus and can prepare for exams in both performance and theory.
Lets make playing the guitar fun!