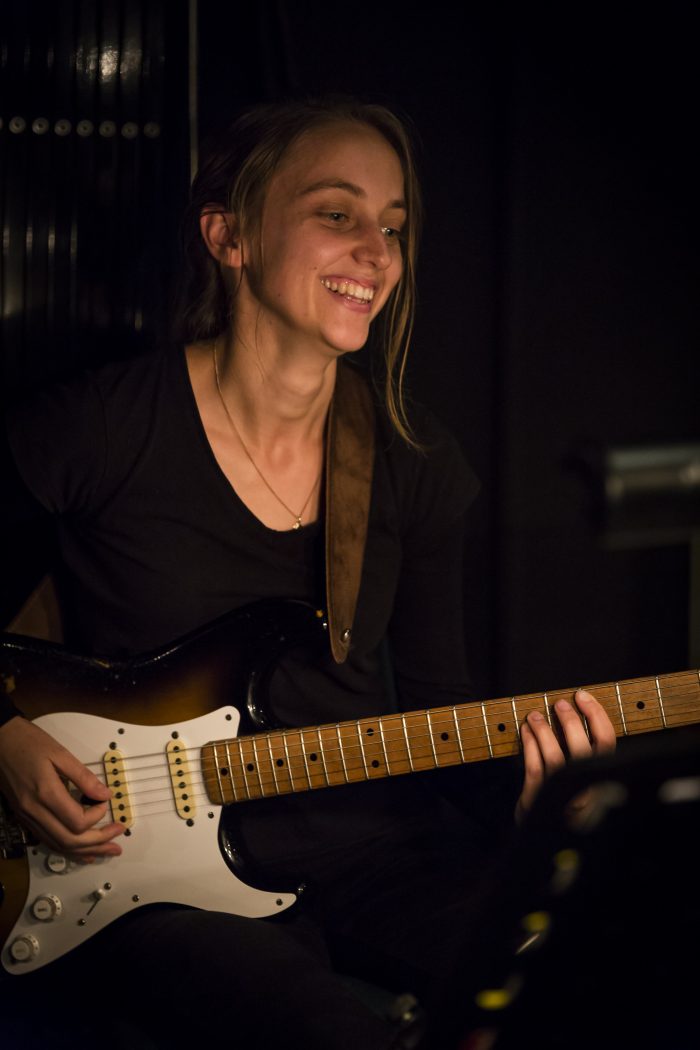 Christchurch
Guitar Lessons | Artist development, Aural Lessons, Ensemble Coaching, Theory Lessons, Composition Lessons, Jazz Improvisation Lessons, NCEA Music Tutoring, Online Lessons
---
Qualifications:

BMus (Hons)

Pricing:

$60 per hour, $45 for 45mins, $30 per half hour

Styles:

Jazz

Suitability:

Intermediate, advanced
---
Bio
Heather is a guitarist, composer and music teacher who works and performs regularly in many different capacities around New Zealand.
Teaching
Heather has been working as a professional music teacher for the last six years.  As well as taking private students, Heather has worked as a teacher at the Christchurch School of Music, an itinerant teacher in primary and secondary schools, and a specialist ensemble and guitar teacher in the Burnside High School Specialist Music Programme.
Education
Having been taught by some of New Zealand's finest guitarists including, Graham Wardrop, Harry Harrison, Bob Heinz, Andy Genge and Dixon Nacey, as well as international guitarists Gilad Hekselman and Jesse van Ruller, Heather has an excellent knowledge of many guitar styles and techniques.
While at Secondary School, Heather successfully completed NCEA Music to Level 3 (year 13), with performance to NCEA Level 5. She is familiar with the current NCEA Music Curriculum in Secondary School education and is equip to give advice and tutoring in this area.
Heather studied jazz guitar performance at the Ara Music Arts (formerly CPIT Jazz School), and graduated in 2015, followed by an Honours year at the University of Canterbury. In 2017 she took her study overseas when she was accepted into the Conservatorium van Amsterdam Summer Course. Here she was tutored by world-renowned musicians including Jesse van Ruller (NDL), Dick Oatts (USA) and John Riley (USA), and performed at the Amsterdam Blue Note.
Performance
Heather has broad music interests and plays a variety of guitars including electric, acoustic, banjo and mandolin. She has considerable experience with musical theatre and has played Rent, Chicago (MUSOC, 2012), The Last 5 Years (Kindle Theatre, 2014), Footloose (NASDA, 2017), Wicked and Broadway Hitmen (Showbiz, 2018), Alice (Free Theatre Christchurch, 2018), Mamma Mia (Variety Theatre Ashburton, 2018), He Says, She Says and Catch Me If You Can (Blackboard Theatre Collective, 2018), Jesus Christ Superstar (The Court Theatre 2018) and We Will Rock You (Showbiz 2019).
Heather is a highly active member of the New Zealand jazz music scene.  She has performance experience as a bandleader, sideman and recording artist.  She is a foundation member of the All Girl Big Band, and leads her own groups, The Heather Webb Trio, The Stick! and The Blues Berries. She also performs as an ensemble member in the Darren Pickering 1/4tet, Soul Kweenz and The Lonious.  Heather has performed around New Zealand in the International Jazz and Blues Festival, Christchurch Big Band Festival, Manawatu and Nelson Jazz Festivals, NMC Jazz Slam, Outstanding Young Musicians series, Music Mentors concert series, Christchurch and Hanmer Springs Arts Festivals, Wellington Jazz Festival, as well as a variety of session work and regular appearances at local music venues.
As well as performing, Heather loves composing. In 2017 she was commissioned to write and record a piece with Sumo Jazz for their recent album, Shiko, which was released in 2018 (Rattle Records) as part of the New Zealand International Jazz and Blues Festival in Christchurch.
---
Teaching Info
Heather's teaching can offer the following services:
– open and bar chords
– jazz 4 part, 5 part and 6 part chords
– chord substitutions and reharmonisation
– scales
– playing melodies on the guitar (with and without chords underneath)
– right and left hand technique (fingerstyle, rhythm and picking)
– improvisation and ear training
– music theory, music notation and tablature
– guitar as an accompanying instrument (for vocalists, saxophones etc.)
– solo guitar performance, alternating thumb and walking bass line techniques