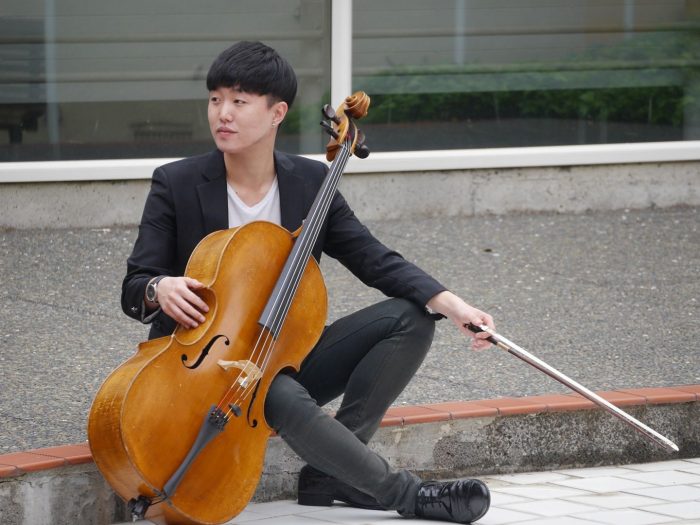 Christchurch
Cello Lessons | Alexander Technique Lessons, Artist development, Ensemble Coaching, Theory Lessons, NCEA Music Tutoring, Online Lessons, Suzuki Music Lessons
---
Qualifications:

Master of Music- San Francisco Conservatory of Music, Bachelor of Music (Honours)- University of Auckland

Pricing:

30 mins-$50, 45 mins-$65, 1 hour-$80

Styles:

Classical Music

Suitability:

Beginner to Advanced Students of ALL ages.
---
Bio
Paul Lee is an aspiring performer and a music education advocate to the younger generation of musicians. He is currently a cellist in the Christchurch Symphony Orchestra and has performed as Associate Principal on several occasions. Being a graduate from the San Francisco Conservatory of Music he has obtained a Master of Music degree in Cello Performance under the tutelage of Jean-Michel Fonteneau. Paul received his Bachelor of Music (Honours) from the University of Auckland studying under Edith Salzmann and Eliah Sakakushev von-Bismarck. He also considers Amos Yang, Assistant Principal Cello of the San Francisco Symphony Orchestra as his mentor.
During his studies he was awarded scholarships including the University of Auckland Cello Bursary Scholarship, Terry Spragg Scholarship and the San Francisco Conservatory Scholarship. Paul, who has always been intrigued in learning new aspects of music has performed in masterclasses with pianists Ekaterina Dershavina, David Dolan, Caroline Almonte and cellists Peter Hoerr, Mark Kosower, Ole Akahoshi, Eric Kim, Nicholas Tzavaras, Tim Gill, Ramon Jaffe and Alvin Wong.
Paul's orchestral experience includes being the Principal Cellist of the San Francisco Conservatory Orchestra, Wallace Chamber Orchestra, University of Auckland Symphony Orchestra, Love and Peace Orchestra and the Auckland Youth Orchestra. He has also had opportunities to perform with the Berkeley Symphony as Associate Principal, San Francisco Ballet Orchestra, Auckland Philharmonia Orchestra and the Manukau Symphony Orchestra. He has performed under the baton of Edwin Outwater and Martin West and has recorded for radio broadcasts such as RNZ and Classical KDFC.
As an eager chamber musician, Paul has collaborated with many internationally-recognized artists which include violinists Jonathan Morton, Clio Gould, Elisabeth Kufferath and cellists Peter Hoerr, Ramon Jaffe and Alvin Wong. While playing alongside these professionals he was able to perform as the second cello and the cello leader in a chamber orchestra playing works from Brahm's Sextet and Schoenberg's Transfigured Night. In chamber music, he has worked extensively with Bonnie Hampton, Dimitri Murrath, Ian Swensen, Paul Hersh, Simon James and the Telegraph String Quartet. He was an invited guest to perform alongside the cello members of the Auckland Philharmonia Orchestra as part of their sanctuary concerts and also a member of the Auckland Cellists.
Teaching music has been truly fulfilling for Paul as he enjoys the musical growth of his younger counterparts. With a private teaching experience of over ten years he has also been a cello and chamber music tutor at the Pettman National Junior Academy, Marshall Laing Music School and the Joyful Orchestra.
---
Teaching Info
As a teacher I am very goal-oriented and it is my job to fulfill the needs of my students who are trying their best to achieve and find their own unique voice not only as cellists but as the full musician or artist.
For beginners, I like to use a combination of the Suzuki method and other etudes to help them build a really strong technical foundation. For my older adult students who have perhaps come to cello later in life, I like to introduce beautiful pieces and approach technical ideas through those. I incorporate Alexander Technique in my cello lessons to teach proper posture. It is important that students are aware of how the body moves and to use the whole body to get more out of cello playing which correlates to performing efficiently with no pain!
I can also prepare and teach students for NCEA performance exams, Grade exams, competitions, auditions for both Universities and professional jobs as well as coaching chamber music groups.
But, of course I understand that every student has their own development and musical journey. Therefore, my approach to lessons will be different to every student as I believe that each individual has a distinct discovery process on the way they listen, feel and express music. Ultimately, I would like to be a part of this journey of self-discovery through the passion and love of music!