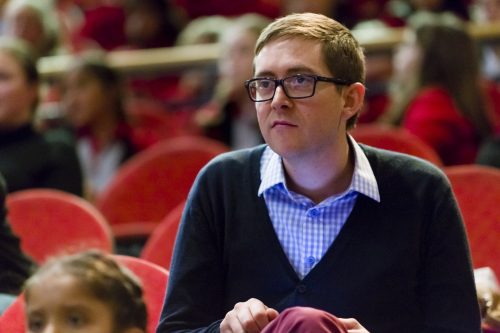 Auckland

Theory Lessons | Viola Lessons | Artist development, Aural Lessons, Song Writing Workshops, Composition Lessons, NCEA Music Tutoring, Skype Lessons
Qualifications: Master of Music (MMus), Bachelor of Music with first class honours (BMus (Hons)), Graduate Diploma in Teaching (GradDipTchg)
Pricing: On request.
Styles: All styles.
Suitability: All levels.
---
Bio
As a qualified music educator, Ryan specialises in the areas of composition, arranging and music theory at secondary and tertiary level; he also works as a consultant on music software and technology, and is highly regarded for his knowledge of music notation and the Sibelius notation software. This has seen him work at the New Zealand School of Music, University of Otago, University of Auckland, Music and Audio Institute of NZ, UNITEC, schools, throughout the music industry and for fourteen years in his private studio.
As a freelance writing-musician, Ryan has fifteen years' experience working for clients worldwide as a music preparer, arranger, orchestrator and composer. Ryan graduated with a Master of Music degree from the New Zealand School of Music in 2006 and since then has forged a career working with many of the industry's leading composers, ensembles, publishers and musicians.
While his own original music has enjoyed success in concert halls and film festivals (Cannes, Austin), Ryan's highest acclaim comes as a music preparer and orchestrator. He has hundreds of professional credits to his name including producing music for ensembles such as the New Zealand Symphony Orchestra, London Metropolitan Orchestra, Budapest Scoring Orchestra and the Dutch Radio Chamber Orchestra; artists such as Neil Finn, Dave Dobbyn and Mark Vanilau; composers such as Victoria Kelly, Rhian Sheehan and Anthony Ritchie; publishers such as G. Schirmer; events such as the Rugby World Cup and Pan-Arab Games; on movies such as The Hobbit 'An Unexpected Journey' and 'The Desolation of Smaug'; and his music has been on music stands at various scoring stages including Abbey Road.
---
Teaching Info
Hi, thanks for your interest in lessons with me. My students come from a range of backgrounds and have a variety of different goals with their learning, so whatever your hopes are we can implement the perfect plan for you. Lessons can be at my studio, or based online.
If you are a high school student, take comfort in that I am a qualified secondary music teacher, so I know NCEA well and what you need to do to get great results.