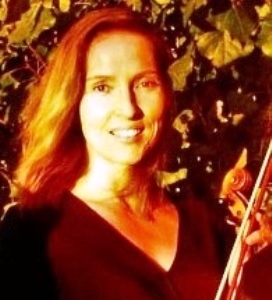 Auckland
Violin Lessons | Viola Lessons | Online Lessons
---
Qualifications:

BMus (Violin Performance), School Itinerant teacher, First Violin Ambiance Strings and Pohutukawa Trio.

Pricing:

Weekdays: $75 p.h. $65 for 45 mins. Weekends: $85 p.h. Longer lessons are available - price on application.

Styles:

Classical

Suitability:

Grades 1-8 or casual lessons. Children and Adults.
---
Bio
Hello, I love teaching violin and viola, helping people achieve their musical aims: children and adults, beginners and advanced players.
NEWSFLASH: Skype lessons are an option.
I hold a BMus in violin performance from Auckland University.
I teach,  play at events solo and with my ensemble Ambiance Strings, and am the violinist in the Pohutukawa Trio.   I have played in many orchestras, including the professional Waitakere Orchestra.
Just a few quotes from Google Maps reviews:
"As a late starting student, I couldn't recommend Susan enough. She took me from never having picked up a violin, to playing in a community orchestra within three years."
"Susan has been an incredible string teacher (violin) for my son …, showing kindness, humour and patience in abundance."
"Her style of teaching is one of coach, mentor and guide. From the way she teaches the children, we know that she is passionate about the violin and this comes through strongly."
"She is patient and flexible and every lesson has been catered to my needs. Her methods are very clear and she explains them with great detail, which has been instrumental in bringing about my quick progress. Within a year I was able to pass Grade 2 with distinction and be accepted into the premier orchestra at my high school. She is very encouraging and inspirational and I would recommend her to anyone who is looking for a music teacher."
---
Teaching Info
NEWSFLASH: Skype lessons are an option.
Excellent teaching and support.
Duet playing from the very beginning – ensemble music begins straight away!
Skills and confidence in technique and theory.
Grade 1-8 examination preparation if desired.
Involvement in performing music as soon as possible.
Please note fees for Saturdays.