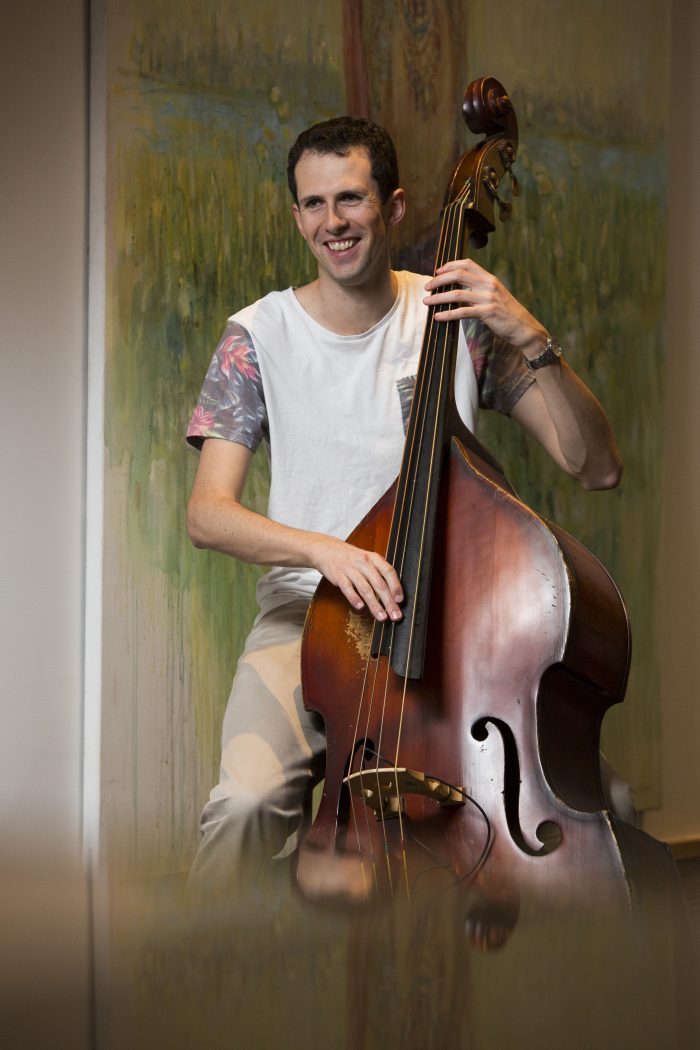 Auckland
Double Bass Lessons | Bass Guitar Lessons | Aural Lessons, Theory Lessons, Composition Lessons, Jazz Improvisation Lessons, NCEA Music Tutoring
---
Qualifications:

MMus(Hons) [Jazz Performance], Trinity Examinations, BSc

Pricing:

$40 per 1/2 hour, $80 per hour

Styles:

Jazz, Funk, Latin, Rock

Suitability:

All ages; Beginner to Advanced
---
Bio
Denholm has recently completed a MMus with first class honours at the University of Auckland, majoring in Jazz Performance.
He also holds a BSc majoring in Physics, & has been the recipient of numerous prestigious academic scholarships, including: a UoA Summer Research Scholarship, the Anne Bellam Scholarship, and the UoA Research Masters Scholarship.
Denholm's current primary pursuit is as the bass player for the Royal New Zealand Navy Band.
Denholm has been playing Electric Bass since age 14, and Double Bass since age 17.
In this time, he has:
– performed as a long-time member of the Taupo Youth Wind Band [2005-2011]
– performed in his college rock band, Kaleidosonic, which reached the National Round of the SmokeFree RockQuest in 2010 and 2011, and gigged often in Taupo and wider Waikato area
– performed as a founding member of local Taupo jazz/funk/latin/rock band Hot Tub [2011]
– performed and gigged regularly in the jazz duo Sweet Az Jazz in Taupo and Auckland at functions, events, and restaurants [2011 – 2014]
– gigged in the jazz/funk ensemble Top Shelf Collective [2015-2016]
– gigged regularly with Auckland swing band The Lindy Tops
– is a core member of Auckland Indian Jazz Fusion band Takadimi
– gigged occasionally in Auckland Latin band Que Menos/Pachanga
– served as a bass tutor at Taupo-nui-a-Tia College, the Taupo Big Music Day, and at DeBase Music Centre, Auckland [2015]
– served as a jazz tutor at UoA for a series of Highschool Workshops [2015]
– achieved Distinction in both the Grade 7 Trinity Rockschool Bass and Grade 7 Trinity Guidhall Theory examinations
– earned NCEA Level 3 achieved with Excellence, with an Excellence Subject Endorsment in Music [2011]
Prior to Bass, Denholm received tuition in Clarinet and Piano, both of which he pursued to a Grade 4/5 level. He also studied Music Theory up to Grade 7. Denholm played Clarinet and Bass Clarinet in the Taupo Youth Wind Band for 7 years.
Denholm is enthusiastic about music, and enjoys sharing his knowledge with everyone no matter how experienced they may be. He is organised, reliable, thorough, and an effective communicator.
Denholm's interests outside of music are astrophysics, astronomy & cosmology; swimming & hiking; and The Simpsons.
---
Teaching Info
You can treat learning music like learning a language: one must able to listen, to speak/play, and to read & write competently to be considered fluent.
My teaching method of choice is to have this aim for my students, so they have no gap in their musical knowledge.
For a beginner student, I would address the basics:
– How do you get various sounds out of your instrument?
This component encompasses all the performance aspects of a students' learning.
They will learn about finger-style and pick playing. They will learn about melody,
harmony, and rhythm.
– What music do you listen to? What made you want to learn this instrument?
This component addresses the students motivations for learning. They will develop a musical ear, be able to identify features of their favourite songs, and be able to then apply those features to their own playing.
– How do you receive and deliver musical instructions?
This part looks at reading and writing musical notation; the system in which music is communicated from the writer to the reader on the page.
All this can be realised from the first lesson! For example:
1) Learning what the parts of the bass are, and how to pick at an open string.
2) Talking about what music they like to listen to, and what they like about it.
3) Learning the names of the open strings, and the musical alphabet.
For a more experienced student, I would take the same approach.
1) Assess their current musical and instrumental knowledge
2) Fill in any gaps there may be present
3) Continue to develop their knowledge – note names, intervals, scales, arpeggios, chords, progressions; pulse, rhythm, time signature, tempo, form; aural training, transcription; sight-reading, arranging, composing,
There is the option for a student to undergo formal assessment of their progress.
I have worked through Trinity Rockschool Bass and Trinity Guildhall Theory, and it may be the student's wish to pursue such qualifications as well.
Lessons can be tailored towards assessments, if desired.
Once a student progress further, the aim of lessons can be directed more by the student.
Special offer for new students:
If you decide that my lessons are not for you after our first session, there will be no charge.