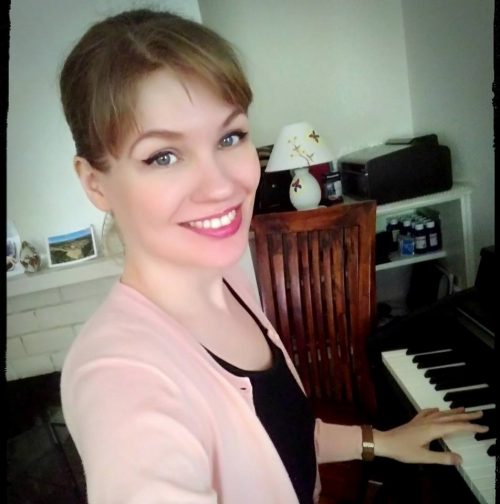 Auckland

Keyboard Lessons | Piano Lessons | Artist development, Aural Lessons, Theory Lessons, Composition Lessons, Jazz Improvisation Lessons
Styles: contemporary, classical, blues, jazz, gospel, accompaniments, improvisation
Suitability: from 6 to 60+
---
Bio
Hi there! =) I do not want to bother you with lots of details about my bio. The most important thing is that I am a positive, smiley person who loves music, loves teaching how to play the piano and loves to share this love and joy of music with people. I had years of classical training but it's not important because it's not what I want for you. What I want for you is to play the piano (both hands!) from the get go and enjoy it and yourself! =) And Simply Music Piano Method that I teach gives you that.
---
Teaching Info
I'm giving piano lessons using an innovative breakthrough Australian Simply Music Piano Method, which gives fantastic results. It's a playing based method, and what it means is that you get to play right away.
The quantity, the quality, the ease of learning is just amazing. In a few months you will learn about ten lovely songs. In just a year you will have about 20-30 songs in your active repertoire, you will already be able to improvise and even compose, play accompaniments, but most importantly you will feel so great about yourself. =)
Just give it a try! The first introductory lesson (about 40 minutes) is free, so you'll have an understanding of what we'll learn, how Simply Music differs from traditional piano education, what's required of you (it's not much =) ), also you'll have your first lesson as well and, like I said, it's free! =)
Find out more about Simply Music ( ! please, check out, at least the first video)
You have two options: having private lessons or having shared lessons in small groups (2-3 people). Private lessons are $40 per lesson (30 min), shared lessons are $120 per month (one lesson per week). Simply music method has the best results with shared lessons (advantages being: it's cheaper, you have performance experience for small public, it's competitive – thus faster development, you get to observe and it's more fun this way), though for the majority of students it's easier to start with a few private lessons and then switch to shared.
It could be a bit more expensive than usual traditional lessons, but the progress and ease you'll have with Simply Music is incredible, I promise. (Generally, even with one lesson per week you'll have better results than two traditional lessons per week.)
So, if you want for yourself (or your child) to play the piano right away, feel great about yourself, to lay the foundation for developing your or your child's musicianship, to be in a place where you can just sit and play contemporary, blues, classical, gospel and accompaniment pieces, to improvise and compose, to make music a lifelong companion, ( and you will get it all), then it's absolutely worth it. =)
Looking forward to hearing from you soon and I can't wait for you to start playing great songs! =)